We've all been there.  You want to sign up for a bellydance class or make it to an ongoing class.  THEN you open up your planner/ calendar and all you see is letters.  Every available moment is booked with something. OR the time you have free, there is no class to be had. And well, you know, sleep is always a nice thing.


The recent snowmaggedon is another prime example. It caused a lot of bellydance teachers (myself included) to cancel their classes.  It got me thinking, what do you do if you can't make it to class?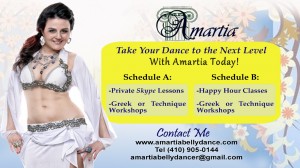 Well you are in luck! The technology now exists that you can connect with your favorite teacher via the web. There are several options. You can join an online class where there is still a group of you all chiming in at the same time. Another is where you join a pre-recorded class or workshop and can pause as you go along. A more interactive option is the online private lesson.  You and the teacher can meet online at a time of your choosing and get the personal attention you need to either work on technique or choreography or even to catch you up to the weekly class that you might have missed. Now not all teachers offer this option.  It may not be possible with their schedule or their internet connection. I happen to offer this option (via Skype private lessons) as I myself have had to use it from time to time.


For the online lesson there are a myriad of options. I have had the best connectivity with Skype. But there is also Tango or even Google hangout that now has a video option.  Now the other thing you need is a strong internet connection. If you do not, then you may have cutouts or skipping in your video as well as the sound.  It's hard to put together movements to a piece of music that only comes through a second at a time with pauses; very frustrating for both parties.


A fantastic camera is not necessary as long as you have bright lighting on both ends.  Lighting will make it so that you can see the teacher's movements and they will be able to see yours. As long as your camera is decent and your internet connection is consistent you are good to go!


So now you have an option that you may not have thought of before for when you are unable to make it to class or you want to find time to take a bellydance class. Just email me and a lesson is a free Skype call away!