Can you believe it? Christmas is a week away. Have you finished your holiday shopping yet? Have you bought that special dancer in your life the gift they have always wanted? No? Well, this blog post is here with holiday gift ideas for the dancer in your life!


1. Place a deposit on a custom costume. Perhaps you don't have the budget to get your lovely dancer an entire costume. But what you can do is help get them started. Contact their favorite designer and place a deposit for them. Let the designer know that once you have given them their gift, the dancer will be contacting them to continue the order. Sometimes all we need is that head start. For instance, you could contact cosmopolitan costumes!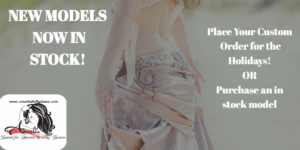 2. Gift cards. Pretty much every retailer of dance offers them nowadays. It also doesn't have to be a gift card for an item, it could be for lessons as well!


3. Following, number 2, you could give the gift of lessons. Purchase them their next session of lessons or perhaps a private lesson with an instructor. You can also purchase online classes in advance as well. The options are endless!


4. Jewelry. I don't mean any rhinestone piece (although they are nice too!), I mean a name necklace. They are easy to find on amazon and etsy and even in mall kiosks. Get them a custom name necklace with their dance name that they can wear while they are performing or teaching. It's something super unique that they will treasure.


I hope these 4 ideas have given you some direction in your gift giving process and choosing a holiday gift for your special dancer. Remember you only have a week left!