This week's blog post is all about getting that repeat business. So many times we have bellydance clients that call us for one party or event but we never hear from them again. We know that they like us, but they don't bring us back. Here are 3 tricks for getting those repeat bellydance clients.
Leave Your Name Behind
I'm not talking about leaving your business card at an event. Business cards are small and can be easily misplaced. One idea is to turn your business card into a magnet. You've gotten those in the mail, right? Do you throw them away? NOPE! Because a magnet is something that everyone can use. Get some magnets made with your contact information and give them out. Or heck, just leave them on their fridge on your way out!
2. Provide Excellent Customer Service
This may seem like a no-brainer but it truly is rare from talking to my clients. I have had numerous tell me that they don't hear from other performers as much as they do from me. I am in constant contact. I make sure to touch base the week before an event, the week of, and the day of. As well as, I text them when I'm on my way so they know to expect me. These tiny things add up and make the client feel secure that they have a pro on their hands! Even a friendly thanks for having me message the day after can leave a lasting good impression that makes them think of you the next time they have an event.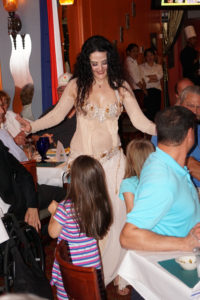 3. Email
Once again, this may seem like an of course, but it surprises me how infrequently it's done. Follow up with your clients after the event and even months after. Send them a holiday greeting just to say hello! You don't always have to be selling your services to keep in contact. Sometimes the lack of selling is what is going to make them open and read your email above someone else's.
I hope you've enjoyed this short, but unformative, blog post about getting those repeat customer clients. Have thoughts of your own? Feel free to share them with us in the comments below? Did something work for you? Please tell us! We love hearing your good news!