A quick post about the Art of the Belly weekend in Ocean City, Maryland at the Carousel hotel, from the perspective of Bellydance by Amartia
This is the third annual Art of the Belly . Co-hosts Naimah and Patti did not disappoint!

For those of you not in the "know" the event is in its third year and is mainly tribal/fusion focused. There are cabaret workshops as well as performances to canned and live music (yours truly performed her Greek style ) AND it doesn't hurt for a cabaret dancer to cross train in tribal/fusion and the reverse is true as well.

I was not able to arrive until late Friday night. I drove up with my trusty dancer buddy Thalia Hamdi and was greeted by the friendly staff of the Carousel Hotel as well as a sign letting us know that there were TWO featured drinks this year: The Zagarita and the Head slide.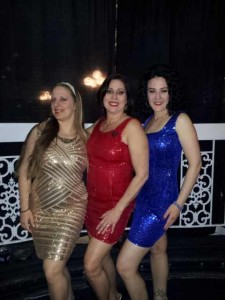 Saturday was a full day of performances and workshops. My performance time was 432pm on Saturday. It was hard to have to leave to get ready and miss out on some of the lovely dancers but from the sounds of the cheering ringing throughout the hotel- dancers did not disappoint! Saturday night was deemed Sequin Dress Night by a few of my dancer friends.

We arrived at the Saturday night performances in full sparkly force and I think it has been decided that Saturday Sequin dress night will be an annual occurrence. The after party with Ishtar was in the hotel bar. The best part is that other musicians joined it and it became a major jam session!

On Sunday, there were more fabulous performances and tons of vendors. From the sparkly to the dark, there were vendors for you. There was jewelry, costumes, hair, hair pieces, and veils, fans OH MY! I gravitated towards my favorite bling vendor Esme's Closet. She did not fail me in my quest for new sparklies. My bling obsession was satiated. I left with a sparkly bag and that is all I will say! I was sad to leave but know that I will be back next year.

Thank you to the organizers, volunteers, performers, vendors and anyone else I have forgotten, for making it a fabulous weekend. The Art of the Belly weekend in Ocean City, Maryland at the Carousel hotel did not disappoint and Bellydance by Amartia will be back next year!