I'm always keeping an eye out on super cool birthday party trends for my clients. I love being able to give them ideas on how to make their birthdays extra special or add that extra something. There are 2 trends that I have noticed for Baltimore Birthday Parties so far this year. Here they are with a few details and ideas below:
1. Bohemian
I've been seeing these more and more and they are really neat! There are all kinds of little details that you can add that can make this theme your own. I know that to some bohemian may mean messy or outdoor festivals with dust but it's not! I have seen feathers, lace, wood details, and everything in between. It comes across as a very simple but chic look. You can use throw pillows, glass vases, and add that level of comfort that your guests will enjoy!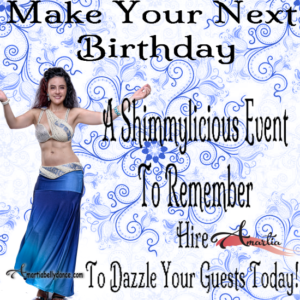 2. Anything Unique
Of course to this one, you would say of course Amartia, this is a great trend. But I mean it as unique- more than a character inspired birthday party. Something more one of a kind like a Japanese tea party, or penguins, or even Arabian themed. Themes that you don't see everyday and require more than one trip to the party store to pull off. And of course, with an Arabian-themed party, it wouldn't be complete without a bellydancer ( but you knew I was going to throw that in, didn't you?)
In all seriousness, the events that I have had the pleasure of performing for, have always had a unique theme. I have done an Arabian party, a princess party, a Bollywood party, a glitz and glamour party. All of these things are themes that you wouldn't see anywhere. Just like a bellydancer. How many parties do you know that have had one? Exactly! We are a unique addition that is also interactive and that your guests will be talking about fo ryears to come.
So if you need help with your Baltimore birthday party- with anything from a theme to entertainment, just give me a call. I'd be happy to make 2017 your best birthday yet!