I know what you may be thinking, is a bellydancer appropriate for a corporate event? Yes, they are. Bellydancers are family friendly, classy entertainment. Plus we add that extra something that employees and clients will be talking about for years to come!


But how do you go about it? Well, here's how!


1. Find a pro


Corporations are all about class and fun! And nothing fulfills those 2 categories better than a professional bellydancer. If you want someone that is consistent with your company image and can tailor their offerings to meet that, then a pro is the way to go!
What do I mean by a pro? I mean that dancer that has a website, photos and videos to show you exactly what you will get when you hire them. Someone that responds promptly to emails or phone calls, answers all of your questions, and is what you want for your event. Everyone has different preferences and you should choose what will make you the happiest.


2. Send them an email


Reach out and contact the dancer of your choice. Whether you find them through google or social media, there will be at least an email address to use. (Who has time to make a phone call during a busy day?) In the email, make sure you put in lots of details about your event. The more details you provide, the easier it will be for them to give you an accurate quote for their services.


3. Discuss your Event in Detail


I know I already mentioned that but there is no such thing as too much detail when it comes to planning an event. There may also be instances in which the dancer has questions for you and may be able to offer add-ons and specialty items that you didn't think of before. There may be a prop that you saw them use in a video that you'd like to be used for your event, a costume color, etc.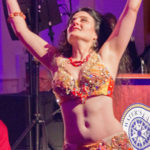 Just as an idea: Use this event and the presence of a bellydancer as an opportunity for team building. You can have the new members of the team learn some bellydance moves to perform. OR you can have everyone learn a few moves and then put into teams to choreograph a dance and the best one wins! There are all kinds of things that you may not have even thought of that a dancer can bring to the table. We are more than happy to help, just ask!


4. Save your date


The typical way to do this is by placing a deposit. This ensures that you have locked in the performer that you want for the date and time that you desire.


5. Enjoy!


The whole point of having a bellydancer is to have fun! So sit back and relax and enjoy the show- and the smiles on everyone's faces. This will be a corporate event to remember!