So it's the holiday season, that means entertaining, right? So where do you start?


Here are a few party planning tips that might come in handy.
1. Pick a theme. I know, some of you may say but I don't want a theme but a theme gives you a place to start. It doesn't have to be something super specific, it can be as simple as red and gold, or cinnamon, or snow. That will allow you to pick from the vast array of items out there and narrow your focus. It's very easy to get overwhelmed in the holiday sections of stores right now! Happens to me all the time
2. Menu. Decide on a menu in advance. If people bring things, great! But at least you know that you will have what you want and enough food for everyone. A good rule of thumb is to pick at least 4 appetizers for people to graze on. If you aren't going all out with a turkey, have 2 main dishes- maybe a chicken dish, or another meat dish. And sides- you can never have enough! These don't have to be home made, they can be store bought- mashed potatoes, greens, bread, etc. If you know you have a few vegetarians in your group, make sure you find a few greens to put into the mix or make a salad. Desserts- depends on your sweet tooth!  Those are usually the parts of the meal that no one has a problem choosing!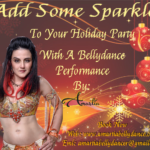 3. Seating. You've got a menu, how do you envision serving. Laying everything out and allowing people to graze, buffet style? Or do you want everyone gathered around a table. Now this of course, will depend on the number of people and the size of your table but both are a great option. If you are hoping to have lots of conversations going and perhaps your group doesn't know each other very well, a buffet is a good way to go. It almost forces interaction. If you put people at a table and allow them to choose, the same groups will end up sitting with each other and you may not get that true interaction that you crave. Seating cards are great, but they can also get moved by your guests while you're busy in the kitchen!
4. Music. It's always a good idea to have some sort of background music going so there is never a big drop of silence in the room. You can use your TV, put your Ipod on shuffle, Spotify, whatever you like. It can be holiday music or jazz, it's up to you. But music is always a good idea to help people feel relaxed, calm and happy!
5. Entertainment. You knew I was going to mention this one, right? Now just because this is a bellydance blog, you know I have to mention that we are amazing additions to any holiday party and a great way to get the blood flowing after a big feast. BUT it doesn't have to be us- you can hire carolers, or a Santa, henna artist, whatever you think your guests will enjoy and will also be a conversation piece to keep the social feel going all night long.
I hope that Iv'e given you some places to start from. If you have any questions or if you'd like some more help or ideas, feel free to comment below or to message me. and if you'd like to add a bellydancer to your event- you know who to call!