How DO you take your wedding to the next level?


How do you make it seem like it's dripping with champagne and diamonds? Well here's how!


There are two things that everyone comes away from a wedding reception talking about: the food and the entertainment. I can recommend quite a few fabulous restaurants in the area to host your event or to order catering from, but my expertise is clearly in the entertainment arena. Anyone can have a DJ or a band but what about a belly dancer? Not everyone has that kind of high class entertainment at their reception, I can assure you.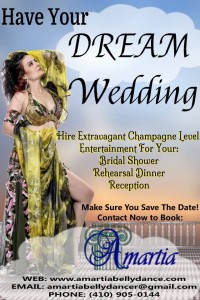 Now, to quell your fears. a bellydancer will NOT compete with the bride or take the attention away from her. A bellydancer adds to your event. We can be a part of the entrance of the newly married couple, our zills heralding in that you have arrived!  Belly dancers can entertain during dinner, or we can entertain AND get the parted started. We will get the bride up to dance and show everyone there that she has some spectacular dance moves!
I specifically
tailor my performance
to meet the needs of the wedding. From a glamorous costume that matches the theme to props that dazzle and amaze. I can even find a way to incorporate your favorite dance song or we can work together to find a song that you absolutely love and use that in my set.
All performances are family friendly so it doesn't matter if there are little ones present. The goal is to raise the energy level and make sure everyone has a great time!
So when you are planning your wedding or helping a friend to plan theirs, don't forget about entertainment. Don't forget about looking up that spectacular dancer. We are happy to shimmy and sparkle our way into adding that champagne and bling to your event!