Who doesn't love a surprise on their birthday?


And belly dancers are the biggest surprise of all!  I know, I know, people always think but it's not for a male, it's for a female or a child or (insert your myth of choice) But it's not true!
We aren't just for Uncle bob or Dad, we are for everyone!
As you saw in
last month's sweet 16 post
we can also surprise the ladies! A great performance is just that, a great performance. The birthday surprise package can be customized to fit your needs- large or small.
Large:  Arrive in a whirl of veils and surprise you guests! Perform and get everyone in on the fun! THEN Stick around and show them some moves that they can them take out on the dance floor!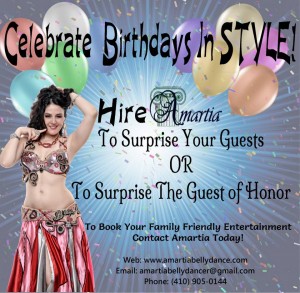 Small: (but who really wants small when it comes to their birthday? ) Arrive and dazzle your guests, pump up the energy in the room and Poof! Be Gone! In a Flash of Glitter!
X-Small: this is a neat feature that can be added in to either size- your choice! Cake surprise! Carry in the cake and sing happy birthday. This works incredibly well as the introduction to the dancer. You get cake AND a show!
No matter what size you choose, everything can be specially tailored to fit YOU and your event!
Whether you want us to come in dazzle and sneak out or stick around and teach the guests some moves, it will be a birthday that neither the attendees nor the guest of honor will forget!


Contact me today to get your Baltimore belly dance birthday party started!