I hope that you've seen my posts on social media about updating my
belly dance workshop offerings
for 2017. I try to update them each year- to add new topics and keep things fresh and exciting. For some of you, the concept of a workshop may be a new thing so I decided to help you figure out what they are and why they are different.
Workshops are an opportunity to study with someone you have never studied with before AND/OR the chance to focus on one particular thing. For instance a technique workshop focuses on one thing for 2-4 hours. It could be turns, let's say, and for that whole period everything will be about learning how to turn without getting dizzy and incorporating them into your routine.
Now you might say, why should I bother taking this when I take weekly classes? Can't I get a
private lesson
? The answer to that is yes, you could.
Weekly classes
don't offer that specialization and private lessons do but for some they are expensive- especially if you're talking about multiple hours! Workshops allow you to focus your study for a price that is less than a private lesson for the same number of hours. There is also the social component. Workshops bring dancers from all over! You'll get to see friends that you might only know from social media!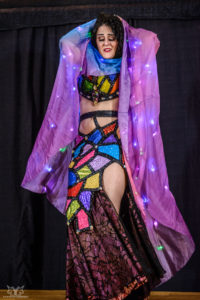 So, what's hot from me for 2017? Check it out below!
The Golden Age of Bellydance Movies- Featuring Egyptian Dancers or Were They?
Amartia will cover the combinations, styling and techniques inspired by the legendary Egyptian bellydancers….or were they? Our favorites such as Nagua Fouad , Katy, Samia brought in influences from their own cultures and created a niche hybrid of dance called Raks Sharqi.  Discover all of their secret pasts. Delve into the Lebanese, Tunisian, Syrian, Latina, Greek and Egyptian dancers whose movies and moves we love to watch. Learn how to blend their cultures (and yours) into a unique style of Raqs Sharki?
Make Your Props Snap, Crackle, Pop!
Incorporating props into your routine can make it a much more entertaining and engaging performance. Bring your favorite bellydancing prop (veil, cane, wings, stick, tray, cape, etc) and Amartia will help you make it POP! Tips and technique for posture, poses, arm patterns, flourishes and turns will be presented. Also get a chance to dance with the latest trend: LED lights. Turn out the lights and turn out your dance!
NICHE PLEASE! Amartia's BellyMogul Bootcamp
NICHE PLEASE…Brand your way to the top! Uplift your dance, not undercut. Work cooperatively, not competitively. Knowing how to be a performer and a dancer just doesn't cut it anymore. With social media, a plethora of dancers have been revealed, but don't focus on them, focus on what makes YOU the top dancer in your area. Learn the business of Carpe Diem. Carpe social media! Carpe marketing your brand! Carpe your niche and Carpe those opportunities! Amartia will show you how to unlock the mysteries of your brand, the opportunities it brings and see the hidden gems that you already possess!
So, if you're interested in these topics give me a shout! You can find out what belly dance workshops are all about!