What's a capsule wardrobe? By definition, it is a closet of 30 pieces or so that you can combine in a myriad of ways and always have something different to wear without feeling like you have to constantly repeat. It is a great way to pack for a long trip, to cull your closet or to save money while not feel bored with your wardrobe. The same thing that can be done for a "regular" closet wardrobe can be done for a bellydancer. So, what would a bellydance capsule consist of?

1. Jewelry-  something silver and sparkly and something gold and sparkly. Metallics go with pretty much everything and you can mix and match. You'll need two sets of earrings, necklace, bracelets and ring. So that's 12 pieces right there- I count one bracelet per arm. I'm a symmetry girl!
2. Bra/belt set- this gets a bit tricky as you might have a favorite color that works for you but i'd say one in silver tones, one in gold tones and one with a myriad of colors to it. This way you can match them however you want and you have one for that splash of color so you don't feel like you're stifled. And that's another 6 pieces!
3. Skirts- In this case, you could always do your math from your other options and splurge on the rest of the numbers with skirts. I think skirts really change an outfit completely and I speak from experience. At least 2 circles skirts and 2 straight style skirts. You can choose to have one in velvet for the chillier months and you can choose to have all patterns or no patterns. You'd be surprised how a skirt change can totally make a bra/belt set look different!
4. Dresses- You don't have to wear a dress in all things, in all performances but if you have a more conservative event, a dress is a nice thing to have. You have to be sure that you don't pick a Saidi style dress and then do dances that are not Saidi to it. You can also choose to buy a body stocking to give a more covered look to a set that you already have. In any case, this piece counts as one.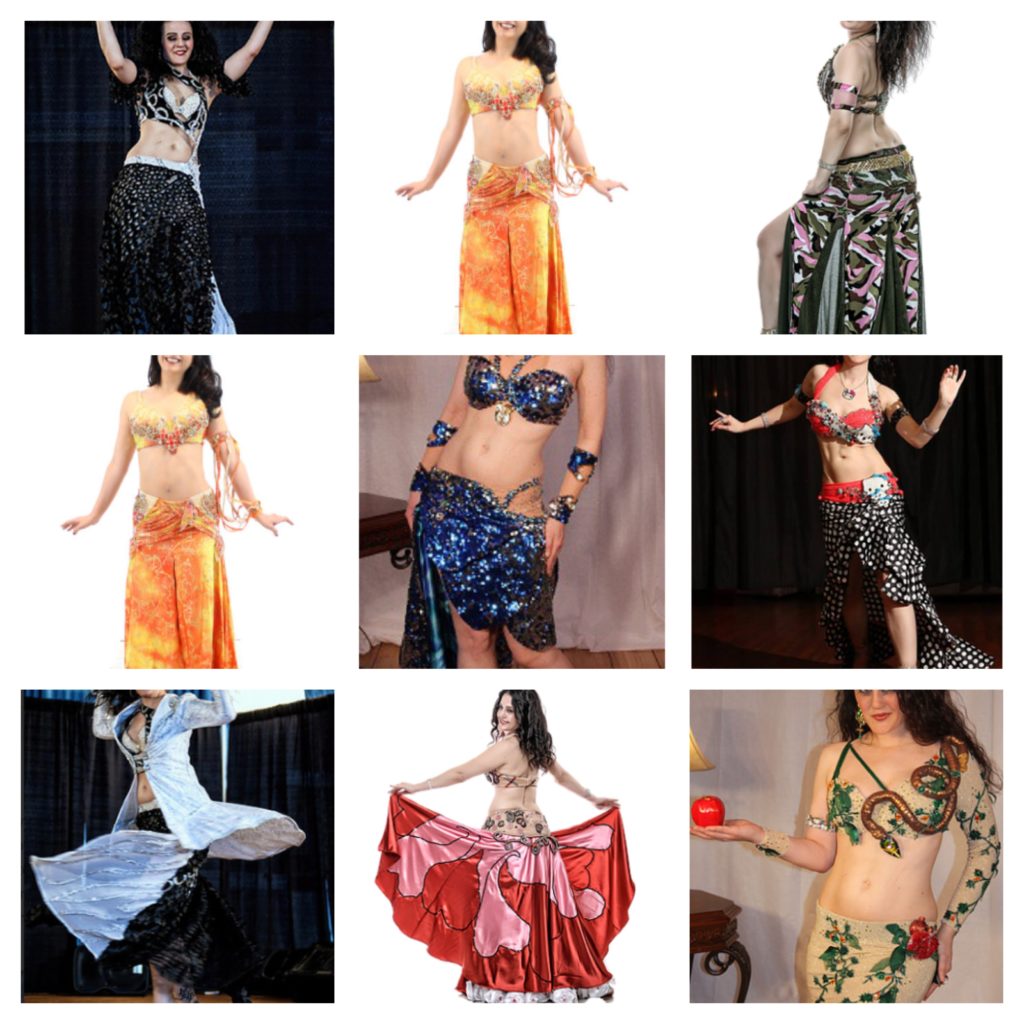 5. Props- Now this is also going to get tricky. One cane and one pair of finger cymbals should suffice. Now veils, those are another story. You could match your veils to your skirts or you could choose primary colors that go with everything- cymbals, veils, canes
6. Shoes- Not everyone dances in shoes but I wanted to include them just in case. Similar to the jewelry you could choose metallics, one silver, one gold or you could choose nude in which case they would go with everything.
7. Cover up- You could use your veil as a cover up but you also take the chance that it will get snagged on your beads. I like to have two cover ups. A summer and a winter. The styles that open in the front are the easiest so you don't have to worry about pulling them over your head and messing up your hair or makeup. 
Let's take a look at our tally, shall we?

| | |
| --- | --- |
| Jewelry | 12 |
| Bra | 3 |
| Belt | 3 |
| Skirts | 4 |
| Props | 3 |
| Dresses | 1 |
| Shoes | 2 |
| Coverup | 2 |
| Total | 30 |
I hope that this bellydance capsule article has helped you start to build your wardrobe if you're just starting out or maybe cull the one you have. I don't know if it's possible to cull mine, I am a severe addict! This is most definitely one of those situations where you maybe shouldn't be like me!