Ok Amartia, What is this Bellydance Happy Hour thing you keep talking about?
It is a happy hour at a bar?
– Although there are places that have a bellydancer during happy hour, the Bellydance Happy Hour program I created does not take place at a bar. It could, if a client booked it there, but that is not the point of the program.
Do you bring alcohol?
– I do not bring the alcohol with me. The alcohol (if present) it typically imbibed before I arrive or during. The point is not to get intoxicated but to loosen those who may have an issue letting their bodies shimmy and shake and to try bellydance.
What if I don't want alcohol there?
– The presence of alcohol is entirely up to you. I have found that some women need a glass of wine in order to feel less shy and to get into the mindset to let their bodies go. To allow themselves to be in tune with their hips and the movements that are the foundation of bellydance.
What is the point of the Bellydance Happy Hour?
-A bellydance happy hour is a fun time with cocktails (if desired) and dance. I've found that a lot of women aren't comfortable taking a bellydance class in a public setting or just don't have the schedule that allows them to take an ongoing class. But they also don't want to take the class alone!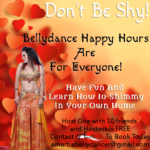 How does it work?
-This program allows you to set up a one time even tor a monthly class for you an d group of friends. You can choose from
various programs
with prices from $15-50 and the hostess always gets her class for free! The bigger the party, the bigger the perks for the hostess.
-I don't bring the booze but you are more than happy to partake before or after I get there (within reason of course!)
-Once there, I have hipscarves and fun t-shirts available for purchase that will really make you feel like you're getting the full experience. They are included in the packages in various ways.
-We will laugh, jingle and shimmy our way to movements that you didn't know your body could do! It's all about having fun while you gain flexibility and strength. You don't have to have previous dance experience to start your bellydance journey.Just a fun attitude and a willingness to learn.
Do I have to have one every month?
-No, you do not. The program is set up so it can be done once or monthly, the timing is up to you!
Why should I host one?
-The hostess learns for free! There is no charge for the hour long lesson for the person hosting, just for the other participants. . So you and your friends could take turns hosting!
-If this sounds like something that you and your girlfriends would enjoy- please feel free to
shoot me an emai
l and we can get your party started today!