Yes, that's right. You can now have bellydance lessons online. I am sure that some of you are tired of hearing me blog about bellydance lessons on Skype but they are truly a great online video program that should be taken advantage of. In my opinion, it is on the forefront of dance education and I use it all the time for my own advancement not just for my students.


I know for some, that learning online via video can be a little odd. I agree, the best is of course, in person instruction for dance. But in the day and age of busy schedules and snowstorms, it is nice to have the option.


Especially for business training. Being able to see a person face to face and have a conversation, share screens and show materials, is really helpful. I like to use it to analyze websites and social media platforms in real time. Also then you can "see what I see" without having the problem of miscommunication or misunderstanding.


For my students, this is a great time to go over any business mentoring that needs to take place. or checking up on homework- whether it be a part of the BellyMogul program or dance program. You can watch the performance video at the same time online and pause and make comments live instead of being in a separate location.


Online classes and video lessons are the wave of the future and make it so easy to get in touch with instructors from all over the world. It is relatively inexpensive and doesn't involve travel and studio rental fees. For the most part, everyone has a computer with a camera (some albeit better than others and a n internet connection. With phones and tablets getting better and better cameras, you can even use those! Even if you r video isn't the greatest, it is usually enough to give you a productive lesson with an instructor. It can be in lieu of an in- person lesson or in addition too.


So, in order to help win you over to the Skype lesson trend, I am offering a Skype lesson sale this March. My usual fee is $65/hr but if you book now, then you can get then for $45/hr.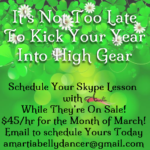 And just for those that are reading this blog: If you book 3, then you get the 3rd one 50% off using the code BLOGGER. You can't beat that! There is your motivation to get your Skype lesson journey started.


Contact me and we can set yours up today from business to technique we can cover whatever you like!