Bellydance by Amartia discusses one of the staff members that no belly dancer can live without: the belly dance boyfriend.


I have a few staff members on my team. My favorite, of course, is my belly dance boyfriend (Don't tell my bestie!) I feel that I am a lucky dancer and woman to have him. He is not only a wonderful man but also very supportive. His supportiveness also extends to my dance for which I am grateful. He does not come with me to all of my gigs, I don't require him to. I know he would if I asked but my schedule is far too busy and plus, he does have a career of his own to attend to.


When he does come with me, he always grabs my roller bag from me and any of my props. He runs through a checklist as we get ready to head out: do I have my music, do we have directions, is there a contact person, etc. During the drive, if I am at all nervous, he calms my nerves. He is also willing to listen to my music for the night….Over, and over, again.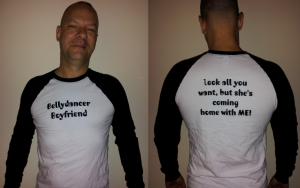 Once we arrive, he coordinates with the client or the DJ- especially if I am a surprise. He makes sure that my bag is secure; he retrieves my props so I don't forget them. All the while, taking photos and sometimes video, and handing out my business cards. He is spectacular.


At restaurants, he talks up the guests, the owners, anyone that may come up during one of my sets. He has the best answers: no it's not that kind of dancing, no I'm not jealous, yes she does do parties, and yes I have her cards. He is a great deterrent to some of the more over-zealous grabby handed patrons. Although there are still cases where, recently actually, someone asked for my phone number, with him standing right there. He takes it all in stride though. He is one of the most secure men I know. His favorite significant other quote is" Look all you want, she's coming home with me"


Do you have a belly dance boyfriend, husband or significant other then feel free to comment on Bellydance by Amartia's blog and give him a shout out- let him know he is appreciated worldwide!