So for this week, I have a great gig story for you all! And a possible idea for those brides who are planning their nuptials at this time. I had the honor of being the bellydancer  at a destination wedding! I was so excited- I get to dance AND I can build in some vacation days at the end of it? Where do I sign up?
Effie and Vinny are a very unique couple. Effie is of Greek descent and Vinny is of Ecuadorian descent. They wanted their wedding to be elegant, fun, and a fusion of both of their cultures. Their goal was for everyone to be up and dancing at the reception. And for that- they wanted a bellydancer. Most of the guests had NO idea that there was going to be a bellydancer. Effie put me in touch with the DJ George Tsakiris (for anyone thinking of a wedding DJ, he is great and he has a wide selection of music)  in advance so I was able to provide him with my music. She wanted a short set during dinner so the guests could relax but still have fun.
The venue for the destination wedding was Half Moon in Jamaica. It is a gorgeous indoor and outdoor venue. The ceremony itself took place outdoors and the reception was in doors. The wedding planner and coordinators there were great. They touched base with me and even had a full schedule set up for the reception so that everything would flow smoothly. They were top notch!
I purposely chose music that was from neither cultures so that no one would feel left out. I have noticed in past multicultural gigs that that can happen. I also saw it happen before my performance: some of the Greek guests would sing along, but those of Latin descent would not and feel left out and vice versa. I chose an Egyptian party song and a drum solo. I kept it short and sweet.
I sent Effie photos of various costumes that would easily make it through travel and customs and the chose the orange
Apollo
. I also snuck in a light up surprise that left everyone smiling! And by that I mean my amazing gold LED wings from
dance-led.com
. The bride and groom loved it and the guests had a blast! As you can see by the photo below, the groom just had to take a selfie!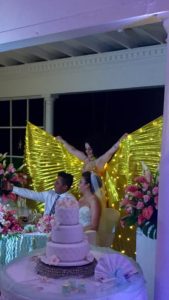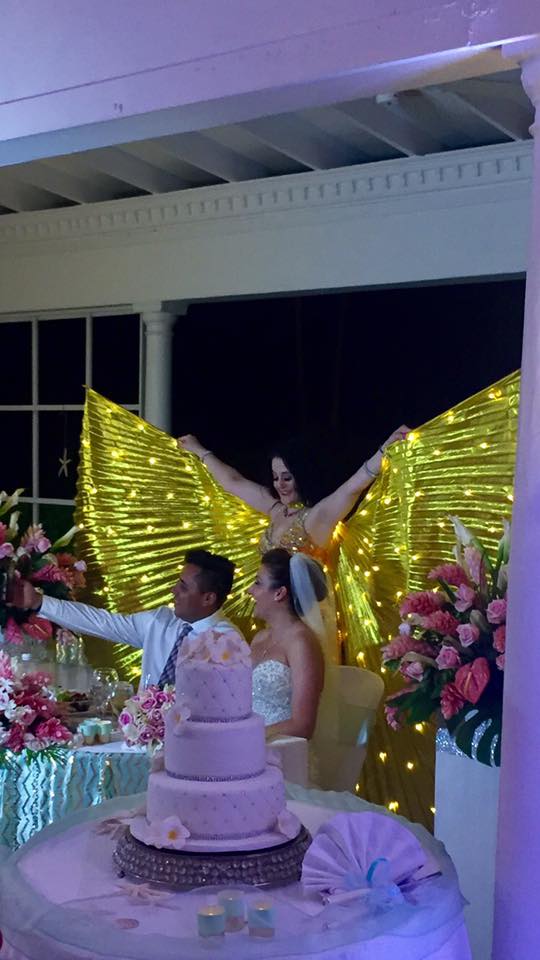 The party went on for hours after my performance. So much so that when I was getting my morning coffee at the cafe, the barista said " Oh my goodness, I know who you are! You're the belly dancer from last night. I went home and tried to do some of the moves but they wouldn't move like yours. I think I need some WD-40 for my hips!" The staff even asked the bride if she could have another reception just so they could dance again! they had never seen a bellydancer before and had never seen so much dancing at a wedding.
So there you have it, an amazing wedding in a gorgeous location! Plus all the guests getting some fun in the sun before hand. And as you can see, if you have a bellydancer at your wedding, even the staff will be talking about it the next day!