Some people think that bellydancers aren't for every occasion but we so are! A Bellydancer is not just for birthdays or for men or whatever stereotype you have heard. A Bellydancer is appropriate entertainment for your bridal shower. We are classy, sparkly, and all around a fabulous complement to your affair.


Don't listen to the nay-sayers. You CAN have a belly dancer at your bridal shower. It is your party and you can have whatever you want. It is your day/your way.  As with all of my packages, everything is customizable. Length of time, show content, costuming, you name it! I want my clients to be happy with the end result; especially when it comes to anything wedding related.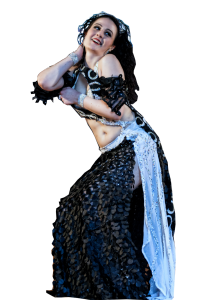 A belly dancer is a unique way to add some glamour to your event. Anyone can have food, open gifts and play games, but a belly dancer? Now THAT will get people talking about your shower and really make it stand out. If you plan on having a bellydancer at your wedding reception then this can be a great way to clue your guests in on the fun to come.


A bridal shower with a belly dancer doesn't have to be just a performance. Bellydance by Amartia has packages for showers that are performances, performances with a lesson, or a lesson on its own. It all depends on your vision for your bridal shower. What style and vibe you want to have. For instance, if your shower is a small get together where your focus is on your friends having a good time then a performance with a lesson may be a great fit. You get the performance part where you can sit back and enjoy and then the lesson part where everyone gets up and learns a few moves. If you want it to be super relaxed and just have a great time then you can choose to have a just a lesson.  You've already eaten and had dessert, now you can work off those extra calories before the next dress fitting!


So, if someone tells you that you can't have a bellydancer at your bridal shower. Tell them they are wrong and feel free to direct them to this blog post!