This is a question that comes up frequently when clients consider hiring a bellydancer for their Baltimore event entertainment. Lucky for you, this blog post is all about a few of those events! I am happy to save you time and help you with your holiday conundrum with this handy question and answer:


1. Are Bellydancers appropriate for a holiday party?
Of course we are! A bellydancer in a red, green or white costume can be for the holidays, and something your guests could have never imagined but will love! Her costuming can be tailored to whatever color scheme you have chosen for your event. Belly dancers are already sparkly and mystical and can dance to your holiday song of choice. A professional belly dancer is also family friendly, so it doesn't matter if there are children in attendance. She can also pose for photos with your guests as a keepsake after her show- just like Santa!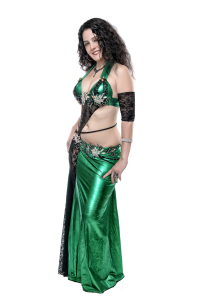 2. Are Bellydancers appropriate for Valentine's day?
Yes, we are but perhaps not in the manner you may think. A bellydancer could be hired for a bellydance happy hour the week before Valentine's Day to teach you a cheeky choreography to do for your significant other! Another option for those single ladies on Valentine's Day night is to hire a bellydancer for a bellydance happy hour to have something fun to do with your girls!


3. Are Bellydancers appropriate for a Super bowl or football party?
Bellydancers can be a great alternative to the "usual" half-time show on TV. If you don't care for the usual act then mute the TV, hit the music, and enjoy the bellydancer's show! This can be a special treat when the bellydancer dresses in your favorite team colors or dances to the team's song. In the case of this particular dancer, a custom Baltimore Ravens Bellydance Costume and 7 Nation Army will be a hit!


Even though bellydancers are fabulous, we are not always the best entertainment option. For instance, some may want to hire us for an all male event but in that instance we are not appropriate entertainment. The entertainment needs of those events typically call for a different type of dancer.


I hope that I have helped you figure out what upcoming holidays a bellydancer is appropriate entertainment for. If you have any of your own holiday ideas, then feel free to post them below! Dancers are always open to new ideas and times where we can share our art with others!