Picture this, you arrive at your gig. You start unpacking your gig bag to get your costume on and get into dance mode. At this moment you discover that your veil is a wrinkled mess, the edge of your skirt is fraying and it looks like your padding came out. What do you do? If you packed more than one costume, maybe you can wear the other but if you only have one, what do you do? This is where this blog post comes in. I'm going to give you 5 costuming tools that you should be using and that should also be in your gig bag at all times. Are you ready? let's do this!


1. Fray check. You can find it at any fabric store and it's not expensive. It is a life saver if your skirt has caught on something and started to fray, leaving tiny strands everywhere. It also helps if you need to shorten something on the fly or even if your veil has started to unravel. It dries fast and clear and you can continue to shimmy.
2. Portable garment steamer. You may be asking why but it's a handy device. You can use it to get the wrinkles out of everything and also it can be used to sanitize your costume afterwards. They are also relatively inexpensive and you can use them for more than just dance.
3. Toupee or garment tape. This can also be used in order to hem a skirt on the fly but it helps keep everything in place while you are dancing. Maybe you lost weight since the last time you wore that costume and it slips and slides around. Tape it! Maybe your cups have a bit more of a gap at the top than before. Tape it. Maybe that belly-cover makes your skirt slippery and move. Tape it!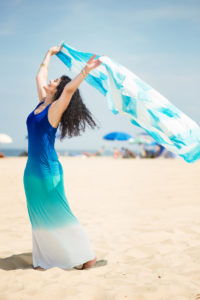 4. Diaper style safety pins. It may seem odd but these old timey ones with the plastic heads work better! also, they lesson the likelihood of the pin coming out and stabbing you. the plastic head actually encases the pin more. AND if you need to pin it where it might show, they come in different colors and can blend right into your costume!


5. Snaps or Velcro. I know that most of us can sew or move a hook but what about snaps? Or even stick on velcro.  I'm not saying you want your whole costume to snap on and off- but you could! I have found that adding an extra snap along a strap really helps me feel secure. It also helps if your hook breaks or comes loose. I purchased a costume where a dancer had added them and I thought, why didn't I think of that? The velcro, similar to the aforementioned tape, can be removed at a later point in time but adds security in the moment. 


I'm not saying this is the whole list but these are definitely 5 that you need to make sure you have. So c'mon bellydancers share you must have 5!