So, the biggest thing has happened, you're engaged! And you are now starting to plan your wedding. Along with the caterer, the hall, and the dress, you also have to think about entertainment for your wedding. If you want fabulous entertainment that your guests will be talking about for years to come, why not have a bellydancer? We are not just for Arabian themes. We can be that extra touch to your entrance to the hall or we could be what gets that dance floor packed with your guests!
But how do you go about finding and hiring a quality professional bellydancer? Well, you're in luck, this blog post is all about how to do just that!
Step 1. Find a bellydancer
There are loads of us. LOADS. Typically a simple google search with your location and the words belly dancer will give you a big list to choose from.
Step 2. Research
Take the time to look at a few dancers and their websites. Do you like what you see in their photos and videos? What do their reviews look like? Everyone has a different vision and style for their wedding so you want to choose a dancer that fits that. For instance, if you envision a performance with big wings you want to be sure to find a dancer who showcases that on her site- either in her photos or in her videos.
Step 3. Contact the Bellydancer
This can be via phone or via email. Personally, I prefer email. That way everything is written out for both interested parties and you can also be sent a contract. Contracts let you know what the dancers expects and also guarantees that you know exactly what to expect from the dancer you have chosen to hire.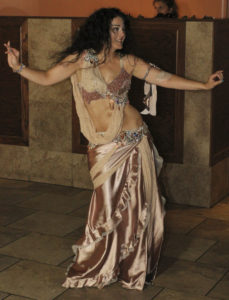 Step 4. Discuss Your Event.
Make sure you let the dancer know what you want. If you hate blue, make sure they know that so they don't show up in a blue costume. If you want to be pulled  up to dance, then let them know! If you've never hired a dancer before, then let them know that too. Any professional dancer is able to guide you through the process, describe their show and give you advice on what would meld with the vision that you have for your wedding.
Step 5. Make a deposit.
Make sure you that you give a deposit to hold the date. This way you know that you have the dancer you want fo rthe date you want. No one wnats the date of the wedding to arrive and she is booked!
Step 6. Enjoy the fun!
If you have chosen a professional bellydancer then she will keep in contact with you, arrange payment in advance and be on time. She will also wow your audience and give you a great show!
A bellydancer should be a "set it and forget it" addition to your show, not a stressfull one.
So, if this sounds great to you, get started! If you like what you see on my site, then
click
and shoot me an email. We can get started on planning your amazing wedding entertainment today!