Everyone is getting ready for the summer season and what it brings. Summer is definitely kid's party season.  What can you do for your little girl to make her party stand out? What can you do that will also get them moving around and not sitting down in front of a movie?


Why not throw her an Arabian princess birthday party complete with a belly dancer?


If the weather is nice, the whole party can be outside! You can set up tents either real or made of fabric and have multicolored pillows and ottomans for everyone to sit on.  You can set up lanterns for when it gets dark that look like the lamps from the Aladdin movie. The food can go along with the theme as well: kabobs, pita bread, hummus and more!  The cake can look like the Taj Mahal, an Arabian castle, a lamp, the possibilities are endless. You could event go so far as to have clothes like harem pants for the girls to dress up in!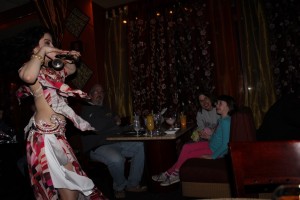 As for the entertainment: a Belly dancer of course! Belly dancers are sparkly, fun, family friendly entertainment! Do belly dancers and princesses go together? Of course!  I, myself get asked at performances all the time by little girls if I know princess Jasmine or Ariel. Of course my answer is yes!


A belly dancer will arrive in a sparkly costumes, finger cymbals ringing and veils flowing through the air. She can perform a fantastic show, leave them in awe, and stay for loads of photos. There are also packages for lessons! You could have the dancer can give your little girl a sparkly show and then lead them in a lesson. They can learn moves and maybe even twirl some veils of their own!


Of course every little girl wants to have a princess at her party! Why shell out for a Disney princess when you can have a unique Arabian princess who dances too! You can make sure that every little girl has a hip scarf and a veil to take home and to play with during the lesson.


So when you're trying to decide what to do for your birthday parties this summer, think princess birthday party with belly dancer. With a lesson and a performance, the little girls will be entertained for an hour and the fun will continue long after the dancer is gone!