So what are YOU doing this Fall? Other than having pumpkin spice everything. Don't let the warm weather slip away from you so easily.
Keep things hot all year round with a themed fall party.


You've heard of a spring into summer party,but how about a fall party,where you FALL in love with bellydance?


A Bellydance party is a great way to kick off the fall season. It's something that will get everyone excited about trying out something new, it's a great way to get people to talk to each other and mingle, and well, who doesn't love to shimmy?


The easiest way is to host a bellydance happy hour. It can be as long or as short as you like. You provide the drinks and treats for your guest and I provide the FUN! Get a group of ladies together to learn some belly dance moves. Your choice if there is "liquid courage" involved or not. I do not recommend trying to belly dance while inebriated but we are all adults.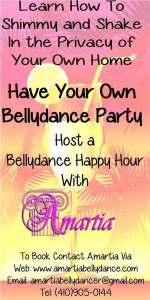 I have a few packages to choose from to make your party incredible. You can choose to get everyone a "Shimmies On The Rocks" T-shirt to wear during their lesson and/or a sparkly noisy coin scarf. The lesson can be as long or as short as you want and can even include a short choreography to your favorite song!


The best part of all of this is that it is on YOUR time. You don't have to worry about class times or locations. You choose the date and time and the guests to invite. You could even have one every month!


So, what's in it for you besides having the party of the season? What's the perk for you as the hostess?
Your lesson is FREE! The pricing is based on the number of people who attend so it can be super affordable.
But as with any party- the more the merrier!


So get started on your fall event and contact me today!