It's really hard to come up with a unique Valentine's Day gift for that special someone.
Every year I am sure you go through your head thinking, what do I get this year?
You've already done the chocolates, the undergarments, the dinners, the trips, the jewelry but what about making or doing something? Something that will create a lasting memory and perhaps isn't something physical?
What am I talking about? I am talking about a performance. A private performance. No, I don't mean a sexy dance. Although it could be considered sensual, it's only as sexy as you make it! This is a surprise that I have helped clients put together in the past and it has gone over really well with their Valentines. So I thought, why not offer it to everyone?
What better way to show your valentine how much you care than taking the time to learn a special dance just for them? Why not come up with something from the heart, err hip?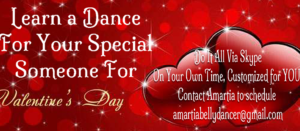 I have choreographed a super cute veil piece that I can teach you in a couple of hours in person or via Skype. You will be able to perform it in time for Valentine's day.
It can be just in front of your Valentine or you can show off to a whole party your choice!
I can be in whatever costume you choose or just a tank top and yoga pants. The veil can be fancy like silk or chiffon or it can simply be a sheer piece of fabric. Your choice! The fabric can be from Joanns or online ans needs to be 3-4 yards in length.
Even if you have never bellydanced a day in your life, I will make sure that you look amazing. Through this one on one instructional period you will be prepped for the big day! As long as you are willing to practice and look over your notes you will be great! Just be brave enough to
make the call
and get this journey started with me today!