I know some of you may be asking, where did the Greek go Amartia? I see all your recent performances on YouTube and they haven't been Greek Belly Dance lately. Your performances have been more Golden Age style. . Well, you just answered your own question! Golden Age IS Greek. Several of the golden age bellydancers were Greek AND Egyptian. I could go on in depth on that topic but that's what my workshops are for.
Back to the Greek Dance question- why haven't you seen it? Well, it's because I have been going back to my roots. I have been focusing on what I learned when I first started dancing. Back to basics if you will. Not just in Greek style dance but bellydance as well. I am focusing on training and honing my technique. I want to continue to master the nuances of Egyptian style dance. In training in this way,  I hope i will be able to find a happy medium between the Greek dancer that is in my heart and the Egyptian dancer as well.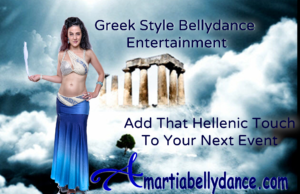 It is also difficult to show Greek style as it truly is as it is not very "showy" and what I mean by that is that it is very small, subtle and internal. When it comes to translating it to a big stage performance it is often lost in translation and in order to overcome that it needs to be fused in some way. Not that I don't love fusing it with the other styles that I have learned but sometimes it would be nice to present it in it's true form and have the audience truly grasp my culture.
I am doing a lot of studying, practicing and reflection. No one ever stops being a student. I am hoping that I will be able to present my favorite styles of dance in the best way possible and maybe pick up a few tricks along the way. As I myself grow and change, I think that my dance style should too.
So, to sum up, Greek style hasn't gone anywhere, and if you want my crazy Greek self at your party, I will be more than happy to oblige! It's just in a cocoon at the moment and it will soon emerge as a beautiful butterfly,all classy and sassy, just you wait!