Unfortunately, Bellydance by Amartia was not able to attend the Greek Independence Day parade in Baltimore this past weekend. The parade was held on Sunday, a day early as March 25th was Greek Independence Day!  The parade has grown over the years but still features groups in ethnic costumes, children groups, and Orthodox Clergy from the Baltimore-Washington area. These groups come from as far away as Ocean City, Hagerstown, and Frederick, Maryland, Washington, D.C., Falls Church and Fredericksburg, Virginia, as well as Lancaster and York, Pennsylvania. There is also yummy Greek food for purchase.

When I was younger, Greek Independence Day was marked by a Greek school program after church on Sunday filled with dancing and children from K-8 reciting poems and singing in Greek. I was one of those kids, standing in front of a microphone in front of the whole congregation, reciting my poem in Greek. I remember looking out into the audience, watching my mom silently recite the poem with me.  It was nerve racking! Perhaps that is why, to this day, I still get butterflies before going on stage. Even though this time, it's to dance, not to speak.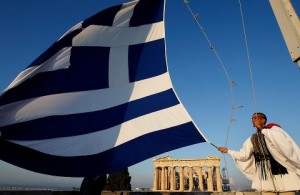 Why is Greek Independence Day so important? (Photo from www.greekgateway.com) On March 25, 1821 the Greek won their independence from the Ottoman Empire. They were under their rule for 368 years. Under the Ottoman Empire, the Hellenic people were treated like second-class citizens; they were enslaved, given heavy taxes and not allowed to practice their religion. Agia Sofia was converted into a mosque!  Even through all of this, they persevered. The Greek Orthodox Church continued in secret and their culture and learning was preserved.  There is a song that I learned in Greek School, which speaks about the moon, giving the light to see to walk to school, to learn, to learn letters and things of God (loosely translated while singing the song in my head)

On March25, 1821, Bishop Germanos of Patras courageously raised the Greek flag at the monastery of Agia Lavras in the Peloponnese, and declared "Eleftheria i Thanatos" (Freedom or Death). At the time, March 25th was already a significant date, it marks the feast of the Annunciation in the Greek Orthodox Church, when the Virgin Mary freely chose to bear Christ, who would free humanity of their sins., (Historical information source: www.malista.com)

So, as you can see, freedom from almost 400 years of oppression is quite a big deal and something to celebrate. So next year, make sure you make it out to the Greek Independence day parade, Bellydance by Amartia sure will!