It's that time of year again, when everyone is deciding on what to be for Halloween. And invariably, these belly dance costume requests pop up:
"You have loads of costumes, can I borrow one for Halloween?"

"Can I rent one of your costumes for the night?"

"Do you have a cheap costume to lend me?"

"Can you lend me one of the costumes you don't like to wear?"
I know our initial response is to scream and throw up our hands in agony BUT try to take a breathe and think of this as an opportunity. Here are 4 ways you can turn this request into a marketable, profitable situation for yourself.
1. Do you have a costume you are trying to sell? I'm not saying to hand over your $800 Bella. But perhaps you have a workhorse costume or one that you had when you were a baby dancer that has been beat to death and you could let go for $200 or under. Some people spend that much on their Halloween costumes so you may be able to make a sale. Also, this allows you to start on the high end and then move on to step 2.
2. Are your students trying to sell a beginner costume? Perhaps one of your students or a fellow dancer is trying to sell their costume? Helping others always puts good energy into the world and comes back to you 10 fold. Perhaps this is a $100 purchase that the person asking can handle. In this case, you have helped someone out.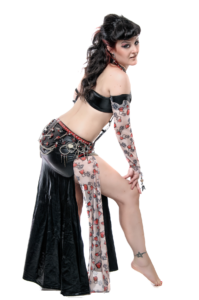 3. Do you have
hipscarves for sale
? any skirts? See where i'm going with this? See what pieces you may be able to part with that could be put together into a full costume. This way, the price tag won't be super high and you'll have the added benefit of ridding yourself of some of these pieces.
4. Do you sew? This could go two ways. You could let them know that they can commission a costume from you for X price OR what you can do is market a workshop for just this purpose. Learn and be able to put together a belly dance/Arabian Halloween costume for yourself! You can market this like those painting parties. Either host it yourself, see if one of those interested wants to host it. You can provide the materials (for an additional fee) or provide a list of things for them to bring. Either way, it's a nice way to add a workshop to your repertoire, turn this into revenue and lastly, perhaps get a few students at the end who may want to learn how to move in those costumes.
I hope these ideas can help lessen the ARGGHHH that comes about from Halloween Belly dance costume Requests. Feel free to add your own ideas below or to share it with others!