'Tis the season to start thinking about holiday gifts and what better way to help you out than with a gift guide!


I'm here to help you navigate the waters of belly dance gear and music to help you choose a gift for that friend, relative or significant other than dances and shimmies like me!
1. LED anything. LED wings and props are the latest trend in bellydance. They add a lot to a show- especially those in night clubs. I will warn you, depending on what you choose they can get a little pricey. So if you're not prepared to spend around $100, then you might want to shy away from these gifts. Also, if you're planning on getting one, purchase it now. Most of the LED products come from overseas and with the holiday shipping season, it can take a while. My favorite vendor for them is
dance-led.com
2. Veil. Who doesn't love and need another silk veil? There are LOADS of vendors for silk veils. And trust me, if they don't have something to match the pattern, they will find or get something. Veils can run anywhere from 30- 200 depending on the vendor, size, quality, etc. Some of my favorites are Silk Dancer and Fairy Cove- both can be found on Etsy.
3. Music. Dancers are always on the lookout for new music to dance to. If you know their favorite artist, then you can find their latest release. If you don't, then a compilation is a good way to do. Maqam.com has loads of music and has compilations from the classical to the more modern. Another way to give the gift of music would be with an Itunes or Amazon download card. If they're into Greek music, then I've got a few selections you can choose from on my site here.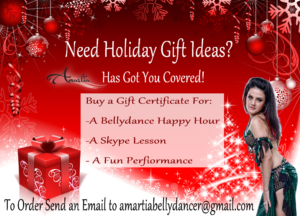 4. Lessons. These are the most important thing to any dancers career. You can connect with their instructor and pre-pay for a session, a private lesson or maybe add to their class card. Check out their Facebook wall, is there an out of town instructor that they love that is going to be in town for workshops? Maybe you could buy them one. Depending on the area, this can range from $35- $200 also dependent on the number of classes or workshops you would like to gift.
Now for the last one and the biggie- COSTUMES
Costumes are for the big spenders. Even something well made from Ebay is going to cost $200 minimum. And I said well made. Not all costumes on Ebay are created equal and unfortunately, they don't always look like the photos and/or the photos have been taken from a designer's site and used as a representation. Does your dancer have a designer that she loves? Have you heard her lust over another designer's costumes? This is where to start. You can contact the designer directly and see if you can work out a custom order, or perhaps a payment plan. Or surprise your dancer with the down payment on the costume of her dreams to help her achieve it. A good rule is, you never know until you ask!
I hope that these 5 ideas have helped point you in the right direction in buying a great holiday gift for the professional or aspiring bellydancer in your life. Feel free to comment with questions or concerns! I am always happy to help connect a dancer to a new sparkley!
Have a great holiday season!