If you have a song with Greek lyrics that you need translated, Bellydance by Amartia's  translation services   can help you! How often has it been drilled into dancers to know what you are dancing to. Knowing the rhythms and what the words mean allows you to dance and gesture properly.

A lot of times dancers will find a Greek song that they love and inspires them to dance. As a Greek-American I think that is wonderful! BUT please please know what you are dancing to. I have seen dancers belly dance to a folk line dance and has no belly dance beat at all. I know that there is no way to know if there will be a Greek person in the audience, gnashing their teeth together, but why even take that chance. Yes, that Kalamatiano song is beautiful, but it's not meant to be danced with a veil!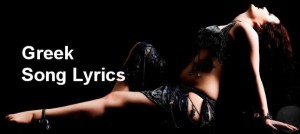 True, there are those more modern songs that fuse the folkloric and the modern together. For instance, there are those that have remixed a folk song and given it new life. Similar to a saidi beat being in an Egyptian song, wouldn't you want to "recognize" that beat? It's not mandatory in a performance, but I wish that dancers would give Greek music the same consideration.

Translating a song is another important factor. It's easy to get caught up in an upbeat melody or the oontz oontz of a bassy remix. BUT the song could really be about a sad event. So, you're smiling while dancing to a song about a wife leaving her husband for her lover. It seems like dancers will got to the trouble of having an Arabic song translated, but not a Greek song. Perhaps it is because they don't know that the service is available, but it is now!

Contact Bellydance by Amartia and get help with your Greek song lyrics by using her Greek song translation service for dancers!