Hello Everyone! Here is the next part of Bellydance by Amartia's photo shoot series: Makeup/Hair. Just like for your wedding, makeup and hair is important in your photoshoots too.

Glamour Hair for photoshoots  What to do with your hair may seem like a small part of the shoot but it really is important. Do you wear it up or down? I have done both styles for a photoshoot. (See my photogallery for more!)

What I choose to do with my hair, depends on the theme or look that I am trying to portray. For that  classic belly dancer look- down is the best. I have naturally curly hair, so it's down and curly. Curly with a lot of product- A LOT! Curly hair may seem easier to manage but it's just as difficult as putting a curl into straight hair. The fly-aways are ridiculous! If it's humid outside? Forget it- I'll have a full own Afro! No photographer wants to go through and photoshop every flyaway from a photo to make it look more polished or an unruly curly that has decided to stick to a rhinestone on your costume.

Some people ask me,why not wear your hair straight? It takes about 2 hours to straighten my hair and get all of the volume and frizz out. Having a stylist there, does cut down on the time but it takes a blowdryer and a fla iron.  That kind of heat on your hair, isn't good for it. Yes, once in a while, should be fine but I don't see the benefits of that type of damage on a daily basis.  I have done it on some occasions. Another side effect of straightening my hair, is that no one recognizes me. It can be very confusing to clients! J My favorite option is to have a hair stylist on set. That way your hair can be primped by a professional and can be on set to adjust the unruly curls.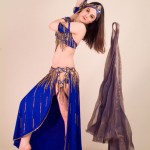 Makeup: Pretty much all of my photoshoots have had a makeup artist on set. Azhia is the best! (check out her website!) I have used her on multiple occasions. It's the best feeling in the world to know all you have to do is show up and they will do all the work! Very princessesy. It is also my opportunity to pick their brains. What products are working? Not working. I pay attention to what brushes they use, what it feels like going on my eye so I know how to apply it on my own. Brandwise- I prefer the expensive stuff- MAC, Nars, etc. There are a few drugstore brands that work as well, 5-below has a great makeup section for medium-quality brands for a fraction of the price. You can get a palette of colors for 5 bucks!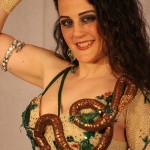 False eyelashes are a personal preference. I really like the look of false eyelashes with my facial features and eye shape. I have even been known to wear two pairs at once, one on top of the other.  It took me a really long time to be able to apply them myself. I have a bit of an eye phobia- don't touch my eye, don't touch your eye in front of me… gives me the heebee geebies. It is a little disconcerning if you think about it. Glue? You want me to put GLUE on my eye.. on purpose???  There is also such a thing as bottom false eyelashes. I have worn bottom lashes for two photoshoots. One was for theme purposes, and the other was the request of the designer whose costumes I was modeling.  But it's not something I do on a daily performance basis.

Like what you're reading?  Feel free to comment or contact Bellydance by Amartia Entertainment in Maryland  with any questions or suggestions for more posts!