"Amartia, what's your secret? "
My BellyMogul secret is teaming up with the best teachers and mentors that I can find. learning from as many people within and without our dance discipline as I can and work. The hustle is constant and real. I spend hours a day on my dance practice, marketing, teaching, lesson plans, you name it I'm working on it. Any time that I have is scheduled to maximize it for work and for fun.
It's the emails from dancers asking how I did this that or the other thing that made me start this BellyMogul program to begin with. It started out small, with trying to fill up my venue schedules so I could open up some free time ( we dancers need a Friday night off too, right?) and turned into something more.
All of the hard work that I put into my own business and into other dancers has resulted in what this program is today.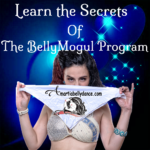 That's what being a BellyMogul means. It means being determined and never giving up. And truly having joy in what you do. Why else would we devote so much time and sacrifice so much for it?
When I get an email from a dancer who got a new gig or her first booking on a site, it fills me with pride. I am genuinely excited and happy for them. The program is not about competition it's about cooperation.
The more you bring others into the fold and see what they do and learn from it, the more you can truly brand yourself and figure out your niche.
We are all doing the "same" thing but we all have something different to offer. Something that is uniquely us. I can tell 10 people the same thing, the same tip, and they will each execute it differently and it makes me so excited. I love seeing someone succeed on social media or that my "crazy" idea worked out for them.
This program is not for everyone. I will push you. You will feel overwhelmed at first and possibly fearful. But know that even as I push you, I am only trying to help you blossom and grow into the amazing businesswoman and artist that I know you are!
If this sounds like something you're down for, then shoot me an email and we can get started.