Bellydancers, we have all been there. In fact, ladies, we have all been there.  You're getting ready to go out, you have your outfit on, you're putting jewelry on and you look down at your rings, then your nails and blech!


Either your nails have no polish and look a mess or the polish is chipping or your nails are all different sizes. I deal with this all the time as I'm getting ready to leave the house for a gig: sparkles on, eyelashes, but oh no my hands! There never seems to be enough time to fix them.  My day job in the lab doesn't help- the washing and the latex gloves. My nails get put through the ringer.


Over the years, I have tried various techniques on my nails. I have tried acrylic overlay and gel overlay and managed to break both of them. Yes, break.  I have astonished many a nail tech with this super power. Also, I just never seem to have the time to pamper myself to get them filled and finished.


I've always seen press on and glue on nails in the drug store, so I thought, why not try them? This could be the answer to my conundrum. Maybe they'll last for a day or two- at least for performances on the weekend.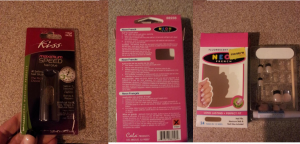 And SO I attempted. I started with the neon nail brand medium length nails and the kiss nail glue. I looked up a few YouTube videos for some tips on how to ensure that they last as long as possible. 1. Make sure your nails are clean and dry- no cuticle oil or moisturizer 2. File down your nails a little to provide a good surface for the glue to adhere to 3. Do NOT use the glue that comes with the nails, buy separate glue. 4. Some of the videos also recommend a shorter length nail but I really really liked the black French manicure which was a medium length.


So, what happened?


I started on a Saturday: Day 1- I lost one nail, but I was trying to dig something out of the couch so perhaps that was it. Day 2- No nail loss during normal activities. Day 3- Bellydance promo video shoot- lost 2 nails during the shoot while going in and out of costuming. I  had to glue them back on- can't have a missing nail in the video. Day 4- Work at the lab- lost 2 more. Day 5- lost 1 nail. Day 6- Lost another and so on. By Day 7, I had 4 nails left. And not on one hand total LOL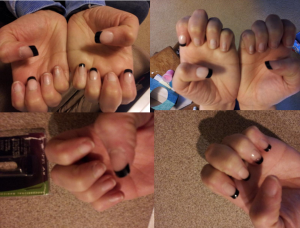 In conclusion, at least per my experience, if you don't do anything stressful with your nails like wear gloves and perform lab work then they should last a while. However if you do, then they will only last you over the weekend. I think I would wear them again for a gig weekend as long as I wasn't doing a million costume changes.


Out of scientific curiosity I have purchased some of the shorter and sport nails of the same brand. I hope to find a chance to try them soon and will be sure to blog about it.


Thanks for reading (and probably laughing) about my glue on nail experience. I hope that it will help you with your own nail woes and perhaps keep you from agonizing over the state of your natural nails in the future. Feel free to comment with your own experiences. I am sure we could all benefit from the additional information!