Bellydance by Amartia covers the second member of the team that any Maryland belly dancer can't live without, the best friend in dance, the belly dance bestie!


My best friend and I have known each other for a very long time. I won't say how long as that would be a violation of the best friend never tell anyone your age clause.  We met when we both started in the Greek dance group in church and have been inseparable ever since.


The first time I ever won an award, she was there. She was also there when I auditioned for my first  public gig and when I got my first night at the local hookah lounge. She has traveled with me to several competitions and show from Boston to Ohio. She has had to sew me into a costume when a zipper broke. She has even curled each piece of my human hair extensions to match my natural curls when I was first growing my hair out.  She has supported me and always thought that I was the best!


My bestie has accompanied me to numerous gigs and a roadie. She is always the loudest cheer in the audience. She is also the most candid reviewer I know. I can count on her to tell me if a costume just isn't working for me or if my performance wasn't up to par.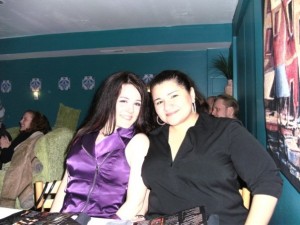 My best friend is also my website copy/bio reviewer. I send her emails: How does this sound? Is the grammar right? Would you hire me with this bio? With this photo? What about this costume? She has her opinions about my costumes as well. She has been one of the many heartbroken when I have sold certain costumes but always knows that I will replace it with one just as pretty!


I know or at least I hope that she knows how much I appreciate everything that  she has done and continues to do for me. Bellydance by Amartia wants to thank her best friend in dance for being there for her and continuing to support her dance!