So, you may have heard that I was on an episode of House Hunters. No, I wasn't looking to buy or sell my home or do a reno or flip a house. I was a part of a Big Fat Greek Crossover episode that was done to coincide with the movie release and a couple looking for a home in Greektown in Baltimore city.


How did it happen?


Well, I received an email from the production company, pietown. Apparently they had found me online while googling and thought it would be  a great addition to the episode. Of course, when I first got the email I was skeptical. Is this a scam? Are they real? Are they just looking for something hoochie-koochie?


I exchanged several emails with the producer as to what my part in the episode would entail. performance? lesson? belly dance? folk dance? After some back and forth they decided that a lesson would be the best thing to really add that flair to the episode. They wanted both bellydance and folk dancing. they told me that it would take about an hour to shoot the episode. We were lucky that Ikaros allowed us to use their upper floor ballroom (gorgeous by the way) in order to film so we didn't have to rent a studio and/or have lookie-looes while were were filming.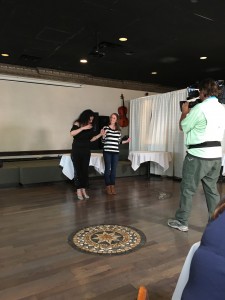 Originally it was supposed to be the couple learning but I think someone was a little shy so it was just the wife.


I was so nervous! I wanted to be sure that I represented myself and bellydance well on camera and that it couldn't be edited to look odd or weird in any way. Also I wasn't allowed to wear anything with a logo or too revealing as it was a lesson.


So, I prepped as much as I could and deal with a wireless mike, a camera 2 inches from my face, repeating things with and without music, just saying lines, etc. fro an hour. the production team was professional and amazing.






What did my hour turn into? About 20 seconds on the show. but it was worth it! lol ti is only a 30 min. show to begin with but it is an experience I wouldn't give up. I got to meet some great people and make a great connection. As well as showcase my heritage in a positive way on national TV.


Who knows? Maybe i'll make it onto another show on HGTV.


So to all those dancers on there who think they'll never be on TV, you never know, that opportunity will come a knocking into your inbox someday.
(I'm not allowed to post the video myself, but if you look up the Will the sofa fit episode from this season, you'll see it!)