Now, I'm not sure if you heard but I soft-launched a program this year called BellyMogul. The main focus of the program for this past year was helping dancers get that restaurant gig. And it was limited to those in my area.  I focused on helping those dancers that wanted to get into the venues that I schedule. I helped them figure out how to do it, what to do and got them a slot on the schedule.
For 2017, I have been asked to expand the BellyMogul program to include a focus on branding. From what I've learned from online training with social media experts (non-dancers) I have compiled a strategy for helping dancers figure out what their brand is and what they can sell that is unique. I know it's easy to do what everyone else is doing.  McDonalds's and Burger King and Wendy's are a prime example of this phenomenon. Aren't they all doing basically the same thing? BUT they have found a way to separate themselves- to brand- to show you how they do it like the others, but somehow different and even better.
The goal of the BellyMogul program is to help dancers identify what their strengths and unique traits are and have that run their business. Things that make YOU, YOU and how that can add to your brand and bring the clients that recognize that to you. Sometimes it's hard to see what makes you truly awesome and it takes an outside observer to point it out.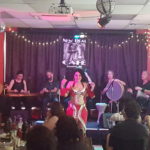 This is what my program strives to do. Yes, there is talk about social media platforms, google,,etc but the focus is on content. Not so much on SEO (search engine optimization) and the tech side but how you present yourself, what words do you use, how to write without sounding too much like you are selling. We've all been there, even me. It's easy to get caught up in overselling or even under-selling.
What I am trying to do with this program is help dancers, help themselves. Get out of the box they are trying to fit themselves into and create their own box. My goal is to help you realize your potential, to see in yourself what you may not be able to necessarily see while still providing honest and constructive critique to support your growth as a dancer and as a businesswoman.
It is really hard to describe the tactics involved because every dancer is unique; thereby each program is tailored to her needs. (If you'd like to see some examples of the  advice I give in advance, sign up for my monthly video series.include link here)
I hope that I have managed to relay my dedication in this work to you. I am truly passionate about supporting dancers and raising them up in the world of dance. I strive to fill this art form with strong, empowered women who are not only artists but business women as well.
If you think I can help you, then by all means please contact me. I would love to add you to the program and help you succeed. All is takes is one Skype call to get started, so what are you waiting for?