Bellydance by Amartia tackles the question of why hire a belly dancer for your Maryland wedding. The reasons for having a belly dancer at your wedding are the same as those for hiring any kind of entertainment but quadrupled. A belly dancer is so much more fun!


I know that the typical response is that of theme. Your wedding doesn't have to have an Arabic or Middle Eastern theme in order to have a belly dancer. A belly dancer is an entertainer and an entertainer is a welcome addition to any event. Also a belly dancer is not just for men. Belly dancers are for all ages and about bringing joy to others through dance. A Belly dancer will keep your guests talking long after your reception is over. That and of course your dress!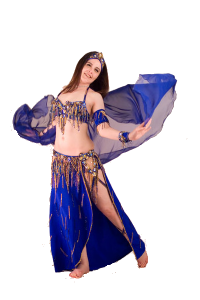 THIS belly dancer offers tons of packages that can make your entire wedding experience a blast. Belly Dancers can perform at your bridal shower or be ambiance and greet your guests- echoing more to come! There are packages for a girl's night out for before the wedding. You can have a performance to get the party started and then go out on the town. There are also add-ons that include a lesson and a show; this way you can learn some moves for your night out (and for the wedding night)


The wedding is of course the culmination of the entire experience. There are packages that range from a short performance to set the tone to longer performances that include mood changes and loads of audience participation for your guests. Each of which adds embellishment to every tier that fabulous wedding reception.


As an added bonus, all of the packages are customizable. Do you have a favorite song? Artist?  Are there any special costuming requests? When dealing with this particular couture costume aficionado, finding a costume that fits your colors and reception theme is a cinch! So, as you can see, hiring Bellydance by Amartia to be the belly dancer at your Maryland wedding is the clear choice!