Being of Greek descent from Baltimore, I have a unique understanding of Greek culture. Of course I love Greek dance.  And music and food and language- the list is endless! On the top of the list of my favorite parties to be the entertainment are Greek parties as a Greek style entertainer. I love being able to envelope myself in the music that calls to my heart and soul like no other. I am able to share a part of who I am with everyone in the room.
Having a Greek dancer bellydance or otherwise at your party is not just for clients who are Greek but maybe for those who want a taste of Greek in their party. You can call it a Greek party, Hellenic, Mediterranean, whatever you wish. You don't have to be Greek (from the country or from a fraternity/sorority) to have a Greek themed party. The performance can also be done in a Greek themed costume.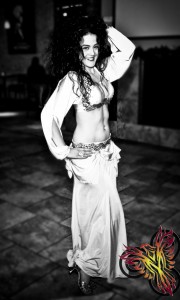 Making your event more Greek with Greek entertainment is possible and there are many options. There can be a full routine to all Greek music- translations are available if you wish.  It doesn't have to be just bellydancing to Greek music. There can also be a Greek folk dance included. In fact, I can teach you how to do the steps and then lead  you in the dance. Greek line dances can go on for hours! As long as the music keeps going that is. The steps repeat and the dances are performed in a line or circle so you don't have to worry about having to perform a solo. Everyone gets in on the fun!
Anything Greek is all the rage right now, why not take advantage of it! Get your Greek dance on, yell out OPA and break some plates. Ok, maybe not the plates, those can be a hazard for people's feet and for the plates!   If you feel the need to throw something, throw napkins, napkins are safer. (If you have ever noticed this at a restaurant or event, this is why)


Call Bellydance by Amartia and she can make your party the "Greek" event of the year- Greek flag veil and all!