Ah November, the leaves are changing, the days are darker and the nights are colder. And it signals the start of the competition season. With the Pittsburgh belly-off being this coming weekend, it's put competitions on my brain.


I have the honor of being a judge this year. Thinking about judging took me back to being on the other side of the table as a competitor and getting back the score sheets and comments. I have notebooks of them from all of the competitions I participated in, but what to do with all those score sheets?


The best thing of course is to have a private lesson with your mentor or a pro that can help you through it. They can look at your video while looking at the sheets and help you pinpoint where the comments came from and addressed. They can also track your progress in that way.


But what about the moment when you're back in your hotel room  looking at the sheets and you want to make sense of it all? When the performance is still fresh in your mind? Well, that's where this blog post comes in to save the day!


(NOTE: Scan those sheets and turn them digital if you want to keep them for prosperity. You can then feel free to recycle the paper and make space in your house!)


As for the analysis, I take a scientific approach. I take each category from each competition and list them and then judge 1 and 2 and give the scores. For those competitions that have a different range say 1-5 vs 1-10 just double or half the number to meet your needs.


THEN you can average across or down for each one. You can even graph trends and see if you've improved in some areas and not others.


Comments- make sure you put down the comments for each area and place them with the score they correspond to. Add a column that says comment yes or no so you know to go look for it.


Classify your comments; were they all about your arms? Posture?


You can also number them, did you receive more or less comments about a particular area over time.


I could go on and on!


Here is a sample of the excel sheet that I use. This is only an example and a snippet of the amount of analysis that can be done. I offer the full version with more categories, trending, and graphs to my private coaching students.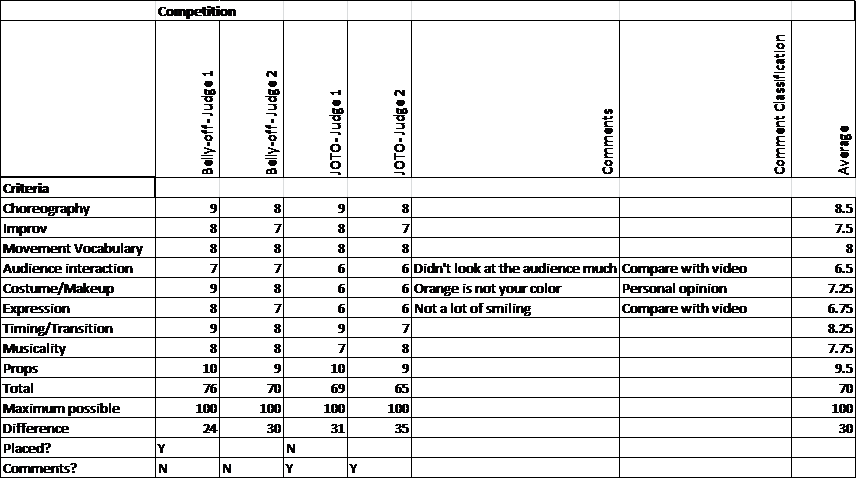 I hope that you have enjoyed my tips for analyzing your competition score sheets. Feel free to add your own tips by commenting below!