Sometimes I feel the need to be blunt and straightforward in a blog post and this is it! I have had a couple of venues and brides tell me that if it wasn't for a friend, they never would have thought to hire a bellydancer. They didn't think their Baltimore wedding dancer should be a bellydancer because they weren't ethnic or themed. They also thought that some guests might find a bellydancer vulgar or that the bride would get upset and think that the dancer was competing with her.
From my experience, these are all incorrect. Bellydancers are not at weddings to compete with the bride for attention, if anything we want to draw more attention to the bride and the happy couple. We are also not just for themed or ethnic wedding, if you want glamorous entertainment for your reception, then we are it. No question!
I think that if more wedding planners offered us as an option to their brides and showed them examples of our performances that this would alleviate a lot of the concern. They would see that we are not there as competition and we are there to make sure everyone has a good time and has smiles on their faces.
I recently wrote a blog post about a
destination wedding
  and you'd think that the beautiful scenery was enough but that couple wanted more. I made sure that they got the bulk of the attention and the bride had no problems with me being there. They in fact, loved it to death! So did the staff at the venue!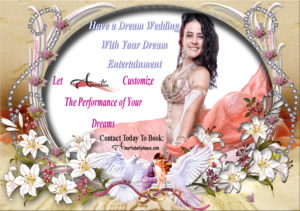 That's just one example. But just in case you're unsure of how to book a bellydancer to be the entertainment for your wedding, here are the shortcut steps.
1. Search- look at the photos on line for bellydancers in your area. look at their videos, do they match your idea of your dream wedding?
2. Ask for customizations- don't be afraid to ask for what you want! if you want her to wear pink, as for it!
3. Be thorough- cover all the bases and have a contact person. the last thing you want to have to do the day of is your dancer tracking you down.
4. Place a deposit-if you don't place one then you may miss out on the dancer of your dreams. always be sure to lock them in for your special day!
5. Sit back and relax! You've hired a professional belly dancer, all you have to do is enjoy your baltimore wedding dancer!